August 29, 2021

|

Women

|

Men

|

Small Group

|

Cornerstone

by

Jeff Scholl
Event Information
Marriage is a lifelong adventure of growing together through every age and stage of life. The happiest couples are those who commit to learning skills that help them weather difficult seasons and deal confidently with relationship challenges. It's your turn to make a great marriage happen.
WHY:
Couples attend Weekend to Remember because they're ready to invest in their marriage and intentionally move towards oneness.
This event hosted by FamilyLife will help you understand God's blueprint for marriage so you can create a legacy of greatness. Attendees say their relationships improved on average from a 4/10 to an 8/10 after one weekend
When:
February 11, 2022 - February 13, 2022
Friday at 7:00 PM - Sunday at 12:30 PM
Where:
Hershey Lodge, Hershey PA
325 University Drive, Hershey, Pennsylvania, 17033, USA
Event registration and discounts:
Berean Bible Church has obtained a group rate. Using BereanBiblePottstown as the group name when you register will give you $100 off the couple's rate, so it will drop from $350 to $250 total and stay there until 30 days prior to the event.
FamilyLife is also running a promotion from August 31 - September 14 where you can get the couple's rate at $175. They will fill up fast!
Note that this does not include food or lodging. Scroll for lodging information.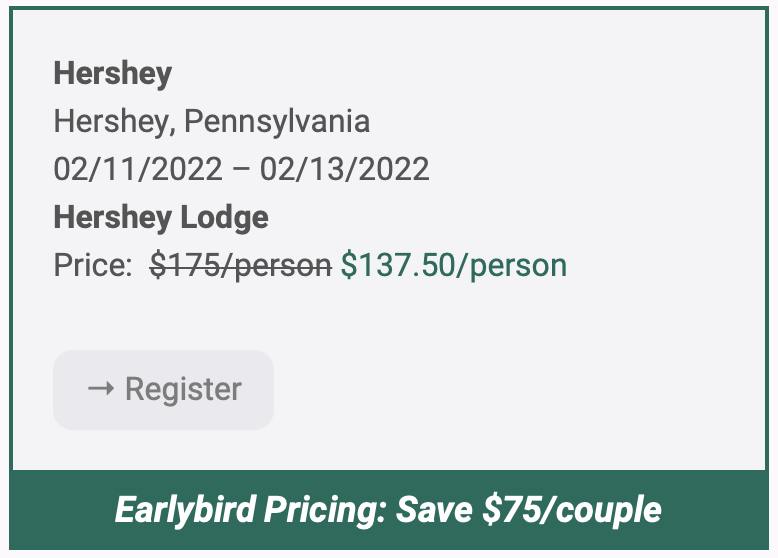 Event Lodging & booking info:
Call the Hershey Lodge at 844-330-1799 to make your reservation at their discounted rate of $304 per room for the 2 nights (taxes included in that total). NOTE: This discount for lodging is good until 01/27/2022 or until the block of rooms is booked.
Be sure to mention the Weekend to Remember conference to get the discounted rate--hurry, the block of rooms will fill up fast!
Questions?
Contact Steph Garland at 717-519-9949